Quality Policy
In order to cope with the defined strategy, offer an effective service and maintain customer satisfaction, Blue Screen IT Solutions implements a Quality Management System (QMS) according to ISO 9001 standards.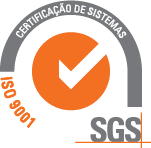 To ensure the implementation and continuous improvement of the Quality Management System, Blue Screen defines its Quality Policy according to the following:
Assist management decisions by providing an effective and highly satisfied advisory service;
Provide its customers with a complete IT Solution and a close and monitored follow-up;
Act as an efficient IT department for SME business providing a high response rate;
Keep the client technologically updated by presenting a value proposition for its success;
Complement its services by presenting the client with reliable partners.
Portfolio: bring quality software to the world that can anticipate and meet the customer's business needs;
Productivity: be a highly fast and effective organization;
Team: be a great place to work, where people get the inspiration they need to do the best they can;
Partners: cultivate a winning network of customers and suppliers, so that together they can create mutual and lasting value;
Planet: be a responsible organization that makes a difference, supporting ecologically conscious and sustainable actions.
Information Security:

Confidentiality – only authorised individuals may access data and information assets.
Data integrity – data must be kept intact, accurate and complete, and computer systems must be kept operational.
Availability – users should be able to access information or systems whenever and wherever necessary.
The management.
Lisbon, January 25th, 2021